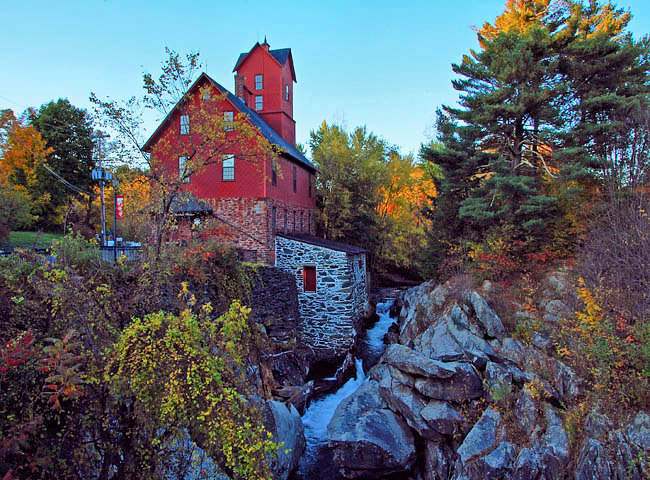 Old Red Mill and Park
Formerly a cabinet shop and starch mill, the Old Red Mill is one of two remaining sights of Chittenden Mills. A historical landmark, the mill was purchased by the Jericho Historical Society in 1978, the mill is now home to a museum and craft shop and sits on twelve walkable acres. Take your dog and a few friends down the short trail to see that beautiful waterfall and gorge views on Brown's River!
www.jerichohistoricalsociety.org/the-old-red-mill
Snowflake Bentley Museum
Maintained by the Jericho Historical Society, the Snowflake Bentley museum exhibit is located in the Old Red Mill. Stop by for a visit after exploring the Old Red Mill Park and get an inside look into the childhood of Wilson Alwyn Bentley, a Vermont farmer famous for his meteorology research and snowflake photography. The exhibit, open every day but Monday, 11am to 4pm, houses Bentley's tools and many of his beautiful snowflake photos.
www.jerichohistoricalsociety.org/snowflake-bentley-exhibit
Mills Riverside Park
Directly off Route 15 sits the Mills Riverside Park. These 216 acres of meadow and wooded hillside boasts gorgeous views of Mt. Mansfield all year long, especially during fall hikes when the leaves are at their peak foliage. Explore the quaint covered bridge, the off-leash dog area, over six miles of year-round hiking trails, and bring a swimsuit for summer swimming in the river. Don't miss concerts and other events in the warmer months at the pavilion!
Jericho Café and Tavern
For a classic farm to table meal – the Vermont way – visit the Jericho Café and Tavern, right on Route 15! The warmer months are hopping at this local eatery, as patrons enjoy the outdoor deck dining, mountain views, live music, and gourmet comfort food from the talents of the leading chef. You can't leave without trying their delicious pies and other handmade desserts. Looking to feed a crowd? They even offer catering!
Jericho Center Country Store
Known as Vermont's longest running store, the original name of the Jericho Center Country Store was "Blackman's Store" as it founded in 1807 by Pliny Blackman. Today the store has been owned by the St. Amour family since 2002. The family prides themselves on sourcing goods from local farmers and vendors. Stop by for a taste of quality, homemade goods, including deli meats, beer and wine, gifts, hand punched French fries, real maple creemees and more!