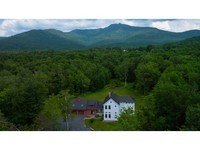 Underhill VT Real Estate
Search by property type to find the latest listings for sale in Underhill, VT. You can save your favorite properties when you create an account, and we will notify you when similar listings come on the market.
Contact Geri Reilly and her team of skilled real estate professionals for more information about a listings or if you would like to schedule a showing.
Raving Fans
"My experience buying a house through Geri was excellent. I was shown the type of places I requested, but when i found them lacking I was shown a different type of place that was much better. I ended up in a home that was nicer than I thought I would ever get on my [...]
- Douglas, South Burlington 2015
"We moved to VT from the midwest, and with no knowledge of the area, we needed to find an agent we could trust. We landed with Geri and her team and were incredibly satisfied. Whenever I questioned anything I called a friend who is an agent back home, and he always agreed with their [...]
- TJ, Essex Junction
Decided to go with Geri Reilly because of her experience, and knowledge. We were pleasantly surprised by her work ethic. She handled every detail of the listing and sale of our home. Questions and concerns were addressed promptly. Her knowledge of the market is thorough. Geri Reilly moves real estate.
Mike & Pam, Milton
"Working with Geri and her team was such an enjoyable experience and I'm so grateful for their help and assistance in finding me the perfect condo. I've been loving every minute of being here!"
Jo, South Burlington 2016
"Geri was amazing! She was knowledgeable about the housing market like no other agent I spoke with. We had our house on the market for less than a week and we had two offers! I will definitely use Geri and her team for ALL of my future house buying/selling needs. And [...]
- Toni, Essex Jct 2015
"Geri is easy to talk to and follows through on all the little loose bits and pieces. She is patient and thorough. We could not have asked for a better realtor."
- Leslie & Bob, South Burlington
Geri and her team make a complicated process seem like a breeze. The entire team is professional, knowledgeable, and a pleasure to work with. We very highly recommend Geri and her team - they are simple the best!
Robert and Melissa, Westford
Our experience with Geri Reilly covers our last three real estate transactions. Obviously we keep going back because of our strong satisfaction with her professionalism. She is an excellent communicator, extremely knowledgeable, and has a passion to get the job done the right way. In addition, she is a very friendly, sensitive, and fair [...]
Pat & Scott, Essex
"I would like to thank Geri and her team. They helped us in the process of selling our home from A-Z. Geri came in and gave us her honest opinion of what we needed to do to make our house sell in today's market. Any questions we had Geri and her team were always available to answer them. Geri made the process very easy for us with [...]
- Joe & Diane, South Burlington 2016
Geri has by far been the best realtor we have ever worked with. She was always professional but in a warm, friendly way. I often felt like I must be her only client because her attention and responses were so prompt, even though I know how busy she is. We sold our house promptly and found a great condo, all thanks to Geri!
Lynn, Essex