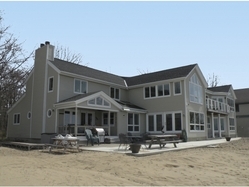 Raving Fans
We had a great experience with Geri and her team. Dedicateed, professional, and knowledgable of the market. Geri's work ethic is quite evident when you start to work with her. In our case, to receive the best offer possible for your house. Our house sold after 3 days on the market, and very close to asking price. For anyone looking for a [...]
Ian & Dale, Essex Jct 2014
"Geri is fantastic! My husband has been working out of state during the week for a year, and we had moved into our new home out of state. Geri was compassionate, supportive, and smart. Geri told me what things really didnt need to be done, what would still be helpful, and when she got started things really went lightning fast. In two [...]
- Donna & Josef, South Burlington
"We found Geri and her team to be very prompt and responsive in meeting our real estate needs. If there were any points of confusion, they were quickly addressed and rectified. Geri maintained a very calm, professional demeanor throughout the listing, negotiating and [...]
- Dennis & Wendy, Jericho 2015
Thank you is not enough to say for getting my house sold. I am so relieved to have it behind me and get on with my life. I have enjoyed working with you and would highly recommend you.
Joan, South Burlington, VT
We bought our house from Geri, 14 years later she sold it for us. The selling in particular was not a simple process, made complicated by the fact that we were long gone by the time we sold. Geri took care of all of the details that we could not. She also stayed in frequent contact with us and helped us to resolve a wide range of potential [...]
Janet & David, Essex
Thank you for your help with everything. I admire your knowledge, grace and professionalism. Thanks again for a job well done.
Karen, MA
"Geri Reilly is the Best Realtor in the World. Experienced. Understanding. Thorough. Attentive. Proactive. I sold my apartment through Geri Reilly, and it's the best decision I could have made. She's really good; she knows what she's doing; AND she's a very nice human [...]
-Richard, Burlington 2016
Michael and I would like to thank you for all your patience and hard work in getting our house sold.
Michael and Donna, Colchester, VT
Thank you so much for everything! You rock!!
Cheryl, VT
I couldn't have asked for a better real estate professional. Geri Reilly is a very knowledgeable, gently persistent, courteous, honest professional who is willing to go the extra ten miles to get the sale and closing done. Geri Reilly Real Estate are a great team to have on your side and her experience and contacts made what initially [...]
S. Brown, Colchester