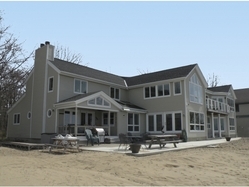 Raving Fans
Our experience with Geri Reilly covers our last three real estate transactions. Obviously we keep going back because of our strong satisfaction with her professionalism. She is an excellent communicator, extremely knowledgeable, and has a passion to get the job done the right way. In addition, she is a very friendly, sensitive, and fair [...]
Pat & Scott, Essex 2014
A tiny note with a great big thank you. You were great to work with and I appreciate all your help. Can't wait for you to see my new abode.
Pat, South Burlington, VT
"Geri and her team were awesome throughout my home buying experience. They gave me wonderful direction and handled all aspects of my home search purchase flawlessly. I highly recommend them and would use their services again should the need arise."
- Lee, Essex Junction 2017
Thank you for your help with everything. I admire your knowledge, grace and professionalism. Thanks again for a job well done.
Karen, MA
"We are from Florida and were looking at a lake home as a second home/income property. Not knowing anyone in the area we contacted Geri Reilly because she was the listing agent on a property we were very interested in seeing. We were contacted almost immediately by Wendy O'Brien who works on Geri's team and she set us up with a [...]
- Jon & Rick, Alburgh
We had a great experience with Geri and her team. Dedicateed, professional, and knowledgable of the market. Geri's work ethic is quite evident when you start to work with her. In our case, to receive the best offer possible for your house. Our house sold after 3 days on the market, and very close to asking price. For anyone looking for a [...]
Ian & Dale, Essex Jct 2014
Tammy & Brian, Fairfax VT
"Once again, top notch service from Geri! We know we are in good hands with Geri's real estate knowledge, excellent communication skills and friendly customer service. We feel fortunate to have Geri as our realtor and friend. It's a win-win partnership! Thanks Geri."
- Gary, Hinesburg 2017
It was very re-assuring to have Geri and Ellen to participate in the process of the purchase of my condo! Thanks so much for taking the time to answer my questions and making yourself available! Best of luck and continued success with your business!
Heidi, 2014
Michael and I would like to thank you for all your patience and hard work in getting our house sold.
Michael and Donna, Colchester, VT