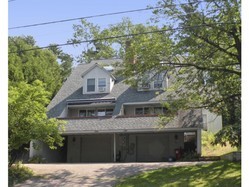 Raving Fans
"Geri was excellent to work with. She provided great guidance from the point of getting the house ready tp sell through every part of the sales process. Our house was well advertised. Maybe the most critical part for us was the negotiation phase, where her experience helped us save thousands."
- Andy & Erica, Georgia 2015
Thank you is not enough to say for getting my house sold. I am so relieved to have it behind me and get on with my life. I have enjoyed working with you and would highly recommend you.
Joan, South Burlington, VT
"Great job. The house was under contract very quickly. Geri's expertise helped us to focus on the priority items that needed to be done in preparing the house for sale. Thank you!"
– Lorraine, Williston 2017
"Geri Reilly and her team went out of their way to support us, both as home sellers and buyers. She is kind, determined, and very thoughtful. We sold our house in less then 3 months and moved into our dream home. Bryce, Kim and Susannah were great advocates throughout [...]
- Carin & Luke, Hinesburg 2015
"We moved to VT from the midwest, and with no knowledge of the area, we needed to find an agent we could trust. We landed with Geri and her team and were incredibly satisfied. Whenever I questioned anything I called a friend who is an agent back home, and he always agreed with their [...]
- TJ, Essex Junction
"I would like to thank Geri and her team. They helped us in the process of selling our home from A-Z. Geri came in and gave us her honest opinion of what we needed to do to make our house sell in today's market. Any questions we had Geri and her team were always available to answer them. Geri made the process very easy for us with [...]
- Joe & Diane, South Burlington 2016
The brochures look awesome - great job on everything!! Count us in as some very happy clients!
Lissa, Hinesburg, VT
"In the past we've used other realtors and were unsuccessful. This time we heard from our friend about Geri Reilly and couldn't have been more pleased. Our condo had 4 showings and an offer was made. She's down to business, passionate to all, the team she has working underneath her is fantastic! I will say now that we [...]
-Kelly & Paul, Colchester
Geri and her team were great to work with. My wife and I purchased a home from them in South Burlington VT. Ellen Zdyb showed us many homes and is by far the hardest working realtor I have ever met. She was great to work with. Once we went under contract, Geri and Kim took the reigns and worked for us tirelessly. The entire office was great to [...]
Erin & Jared, South Burlington 2014