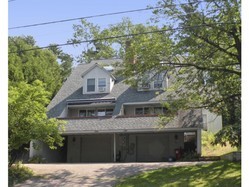 Raving Fans
"Geri Reilly and her team went out of their way to support us, both as home sellers and buyers. She is kind, determined, and very thoughtful. We sold our house in less then 3 months and moved into our dream home. Bryce, Kim and Susannah were great advocates throughout [...]
- Carin & Luke, Hinesburg 2015
Geri Reilly is a first-rate realtor who provides good advice and understands the needs of her client. She is an absolute professional and so knowledgeable about every aspect of the process. She went ABOVE and BEYOND our expectations in doing everything that she could to sell our house and was actively involved everyday including our closing day. [...]
Chris & Tim, South Burlington
My wife and I would highly recommend Geri and her staff should you need to purchase or sell a home in the area. We worked primarily with Stephanie O'Brien and Geri Reilly and had a wonderful experience with both. They knew the area of Chittenden County that we were looking to buy in very well, and kept us abreast of new homes coming onto [...]
Brad & Anne, South Burlington
Thank you for your help with everything. I admire your knowledge, grace and professionalism. Thanks again for a job well done.
Karen, MA
"This will be glowing, as it needs to be. We have built, bought and sold numbers of homes in numbers of states over the years. Geri Reilly and her team were the best in my experience. We had a big house with many particulars - wine cellar, fireplaces, gourmet kitchen, 5 baths, extensive landscaping, etc. Geri led us through the process of [...]
- Muriel, Williston 2017
"Geri's team was very responsive to all of our inquiries, requests and questions. This was not our first time using Geri and as always a wonderful and very professional experience. I highly recommend Geri's team!"
- Katie, Williston 2016
From my initial contact with Geri Reilly concerning my interest in the area, she and her staff provided me with outstanding service. They provided me with detailed information about the market, responded in a timely manner to my queries and requests, arranged a highly organized and efficient weekend of home tours that was consistent with my [...]
LJR, Colchester 2014
Ellen Zdyb and Geri Reilly were wonderful to work with and really looked out for my best interests when finding a new home as a first-time buyer. They made great recommendations for a loan officer and legal counsel to further ease the process of buying real estate. I certainly would recommend Geri Reilly Real Estate to anyone looking to [...]
Adam, Essex Jct
"I'm glad I picked Geri Reilly as my realtor. Her team is not too big and not too small. I was impressed with how fast, pleasant, and well coordinated they were throughout the process. They got the job done!"
– Nancy, Winooski 2017