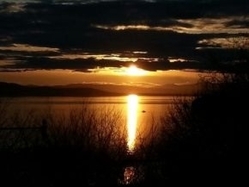 Raving Fans
Geri Reilly is a first-rate realtor who provides good advice and understands the needs of her client. She is an absolute professional and so knowledgeable about every aspect of the process. She went ABOVE and BEYOND our expectations in doing everything that she could to sell our house and was actively involved everyday including our closing day. [...]
Chris & Tim, South Burlington
Thank you again for helping us buy our new house. We're settling in slowly, and really love it. You guys were total pros to work with and I appreciate all of your help.
Mike, Shelburne
"We are deeply grateful for all Geri did to make both our home sale and our home purchase go smoothly. At every step, Geri gave us honest, professional, accurate advice. Her negotiating skills saved us money; and she was "fully with us" for important decisions; she "held our hands" all the way; she offered us timely [...]
- Kate & Fred, Burlington
Our experience with Geri Reilly covers our last three real estate transactions. Obviously we keep going back because of our strong satisfaction with her professionalism. She is an excellent communicator, extremely knowledgeable, and has a passion to get the job done the right way. In addition, she is a very friendly, sensitive, and fair [...]
Pat & Scott, Essex
Geri is the best, I called her from Florida where I now reside and told her I wanted to sell my condo in Vermont. She handled everything, she had an electrician, fire saftey people, glass people and ther workers come to our condo to do some work required by inspection. She has a closing coordinator in her office that handles everything and [...]
Ken & Sandy, Florida
"Geri, Suzanna Gruner, and the whole team were outstanding. Our home sold quickly, less than 10 days. There is typically a long gap between signing a sales contract and closing. Geri and the team stayed connected with us the whole time and were involved in every step in the process. The few minor issues that came up were [...]
-Eileen & Bob, Colchester 2017
"We are from Florida and were looking at a lake home as a second home/income property. Not knowing anyone in the area we contacted Geri Reilly because she was the listing agent on a property we were very interested in seeing. We were contacted almost immediately by Wendy O'Brien who works on Geri's team and she set us up with a [...]
- Jon & Rick, Alburgh
"Geri was amazing! She was knowledgeable about the housing market like no other agent I spoke with. We had our house on the market for less than a week and we had two offers! I will definitely use Geri and her team for ALL of my future house buying/selling needs. And [...]
- Toni, Essex Jct 2015
Thank you so very much for all you and your team did for me in the acquisition of my new home. I went to the house after the closing. The sun was shining in through the windows, birds were singing and butterflies were floating through the garden. I had a complete sense of peace and happiness. I am thrilled with our new home.
Cindy, Burlington, VT
Thanks. If it wasn't for you I would probably never have owned a house! You made it so easy. I love everything about my new home! Thanks for finding it for me. You make the world a better place.
Bev, New Haven, VT